Basement Remodeling in Arvada, CO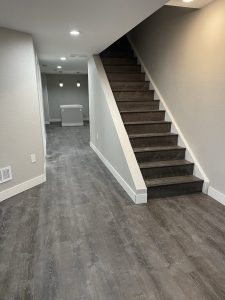 These days you are very busy, not leaving much time for friends and family. But what if you had a great space in your Arvada where you could spend time hanging out, watching movies, or creating DIY or home improvement projects? Basements are a great space to convert into a great place to spend time with each other whether it is a family room or entertainment center. In Arvada, CO basement remodeling projects provide homeowners with year-round enjoyment. Don't let all your home's basement space go to waste!
There are a lot of things to consider when remodeling a basement. Would you like a new bathroom? How about that new guestroom? Heated floors are always popular in Arvada, CO. Learn more about our basement finishing and remodeling services, call us today for an easy and quick remodeling service estimate.
*If remodeling requires plumbing, HVAC, or electrical services, Ram Construction will only use licensed tradesmen during basement remodeling services in Arvada, CO.
Our Basement Finishing Services Include:
Basement Finishing
Basement Inspections
Leak Repair
Media Rooms
Basement Plumbing & Electrical Work
Zipcodes: 80002, 80003, 80004, 80005, 80007, 80021, 80030, 80033, 80403.