Basement Remodeling in Arvada, CO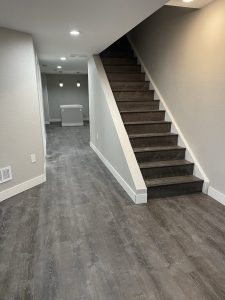 Our Basement Finishing Services Include:
Basement Finishing

At RAM Construction, we understand that your basement is essential to your home. That's why we're here to help you transform your dark and dingy basement into a bright, functional living space that meets your unique needs and preferences. As the premier basement remodeling contractor in Arvada, CO, we specialize in creating custom solutions that reflect your style and personality.

Our experienced team of professionals is passionate about turning your basement renovation dreams into reality. From concept to completion, we work closely with you to ensure your project succeeds. Whether you want to create a cozy home theater for movie nights, a fun game room for family and friends, or an extra bedroom for guests, we have the expertise and creativity to make it happen.

At RAM Construction, we only use high-quality materials and top-of-the-line equipment to ensure that your basement renovation project is of the highest quality. Our team of skilled professionals takes pride in their work, and we're committed to delivering exceptional workmanship that exceeds your expectations.

We understand that home renovations can be stressful, but with RAM Construction, you can rest assured that your project is in the best hands. We take pride in our transparent and honest approach, keeping you informed throughout the renovation process and ensuring your project is completed on time and within your budget.

So why wait? Contact us today to schedule a consultation with our expert team of basement remodeling contractors in Arvada, CO, and take the first step toward your dream basement. Let us help you transform your underutilized basement into a space you'll love spending time in for years to come!
Zipcodes: 80002, 80003, 80004, 80005, 80007, 80021, 80030, 80033, 80403.