Basement Remodeling in Broomfield, CO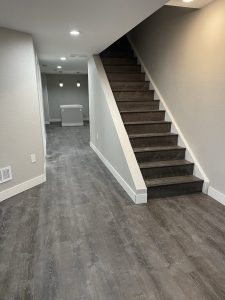 These days you are very busy, not leaving much time for friends and family. But what if you had a great space in your Broomfield to hang out, watch movies, or create DIY or home improvement projects? Basements are a great space to convert into a great place to spend time with each other, whether it is a family room or entertainment center. In Broomfield, CO, basement remodeling projects provide homeowners with year-round enjoyment. Don't let all your home's basement space go to waste!
There are a lot of things to consider when remodeling a basement. Would you like a new bathroom? How about that new guestroom? Heated floors are always popular in Broomfield, CO. Learn more about our basement finishing and remodeling services, call us today for an easy and quick remodeling service estimate.
*If remodeling requires plumbing, HVAC, or electrical services, Ram Construction will only use licensed tradesmen during basement remodeling services in Broomfield, CO.
Are you looking to transform your Broomfield home's unused basement into a functional and inviting living space? Look no further than RAM Construction, Broomfield's premier basement remodeling contractor. With years of experience and a commitment to quality and customer satisfaction, we specialize in creating custom solutions that exceed your expectations.
At RAM Construction, we believe that your basement has untapped potential. Our team of professionals is dedicated to transforming your dark, unused basement into a functional and stylish living space that meets your unique needs and preferences. Whether you want to create a cozy home theater for movie nights, an extra bedroom for guests, or a playroom for the kids, we have the expertise and creativity to make it happen.
We offer comprehensive design and build services that take the stress out of the renovation process. From initial concept to final completion, our team works closely with you to ensure that every aspect of your project meets your expectations. We use only high-quality materials and top-of-the-line equipment to ensure that your basement renovation project is of the highest quality.
At RAM Construction, we take pride in our transparent and honest approach. We keep you informed throughout the renovation process, ensuring your project is completed on time and within your budget. Our commitment to exceptional workmanship and customer satisfaction has earned us a reputation as Broomfield's leading basement remodeling contractor.
So why wait? Contact us today to schedule a consultation with our expert team of basement remodeling contractors in Broomfield. Let us help you unlock your basement's untapped potential and transform it into a functional and inviting living space that you and your family will love for years.
Zipcodes: 80020, 80023, 80027, 80234, 80516