Basement Remodeling in Denver, CO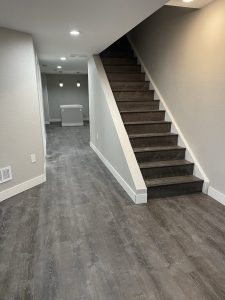 Are you tired of your dark, unfinished basement serving as nothing more than a storage space for your old boxes and unused belongings? Are you dreaming of creating a functional and inviting living space that you and your family can enjoy for years? Look no further than RAM Construction, Denver's premier basement remodeling contractor.
At RAM Construction, we understand that your basement has untapped potential. We're committed to transforming it into a beautiful, functional living space that meets your unique needs and preferences. We're passionate about helping Denver homeowners like you unlock the full potential of their homes by transforming unused basements into stunning living spaces perfect for entertaining, relaxing, and enjoying quality time with loved ones.
Our team of professionals has years of experience in the basement remodeling industry, and we're dedicated to providing our clients with the highest quality workmanship and exceptional customer service. From initial design concepts to completion, we work closely with you at every step to ensure your project is completed on time, within budget, and to your satisfaction.
Whether you want to create a home theater, build an extra bedroom, or transform your basement into a sleek, modern living space, we have the expertise and creativity to bring your vision to life. Our comprehensive design and build services take the stress out of the renovation process. We use only the finest materials and top-of-the-line equipment to ensure that your finished basement is of the highest quality.
We understand that a basement renovation can be a significant investment, so we're committed to providing our clients with transparent and honest pricing. We keep you informed throughout the renovation process, ensuring you're always aware of the progress and any changes to the budget. We're proud to have built a reputation as Denver's most trustworthy and reliable basement remodeling contractor.
So why wait? Contact us today to schedule a consultation with our expert team of basement remodeling contractors in Denver. Let us help you unlock the full potential of your home and create a stunning living space that you and your family will love for years to come. Don't miss the opportunity to transform your unused basement into a functional, stylish, and inviting living space. Contact us now to get started!
Zipcodes: 80110, 80202, 80203, 80204, 80205, 80206, 80207, 80209, 80210, 80211, 80214, 80218, 80219, 80222, 80223, 80224, 80226, 80227, 80230, 80232, 80236, 80237, 80238, 80239, 80246, 80249, 80264, 80290, 80293, 80294