Remodel Contractors in Denver, CO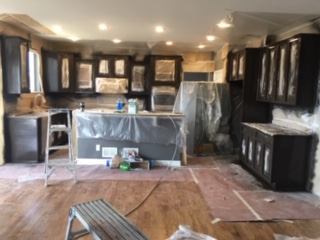 Our team at Ram Construction is proud to serve Denver, CO with property renovations, including smaller jobs like painting, landscaping, HVAC systems, skim coating, and flooring installation, as well as larger ones like townhomes and condos. We've helped thousands of Denver homeowners through the years with our high-quality, comprehensive approach to home improvement.
We offer custom solutions with standard features that turn your idea into a reality. For example, we'll provide architectural plans and designs, permit processing, alteration packages, procurement of all necessary materials and products, demolition, construction and installation, plumbing and electrical work, and even professional cleaning to ensure your home is in pristine order once our job is done. If you need to do any type of home renovation, Ram Construction can take care of it, so you can spend your time on other parts of your life.
We can help with any type of remodel or renovation and work hard to ensure that your project is in safe hands. Our carpenters, technicians, and on-staff architect all have extensive knowledge relevant to the industry and our clients' needs. We have a proven track record of delivering amazing projects. So you can rest assured that every detail of your project is in good hands. Working with a single point of contact – your project manager – means you'll have a single place where you can direct any questions and concerns during your remodel process. And, we'll never consider your project complete until you are totally satisfied with our results. It is this commitment to customer satisfaction that has allowed us to maintain an outstanding reputation among our customers in Denver, CO.
Zipcodes: 80110, 80202, 80203, 80204, 80205, 80206, 80207, 80209, 80210, 80211, 80214, 80218, 80219, 80222, 80223, 80224, 80226, 80227, 80230, 80232, 80236, 80237, 80238, 80239, 80246, 80249, 80264, 80290, 80293, 80294