Remodel Contractors in Denver, CO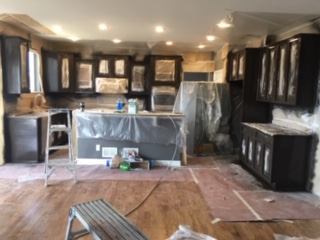 Are you tired of looking at the same old boring basement? Do you want to add value to your home while creating a new space for your family to enjoy? Look no further than RAM Construction – your top choice for basement remodeling in Denver.
Our team of experienced contractors will work with you every step of the way to turn your basement dreams into a reality. From design to execution, we handle it all, ensuring a stress-free and seamless renovation process.
Why Choose RAM Construction for Your Basement Remodel?
There are numerous reasons why homeowners choose RAM Construction for their basement remodeling needs. For starters, we are a team of licensed and insured contractors with years of experience under our belt. Our commitment to quality and attention to detail ensures that every project is completed to the highest standards.
At RAM Construction, we understand that every homeowner has unique needs and desires when it comes to basement remodeling. That's why we take the time to listen to your ideas and work with you to create a custom design that fits your budget and lifestyle. Whether you want to turn your basement into a cozy family room, a home theater, or a guest suite, we have the expertise to bring your vision to life.
Benefits of Basement Remodeling
Remodeling your basement offers numerous benefits, including:
Increased Home Value: A finished basement adds value to your home, making it more appealing to potential buyers if you decide to sell in the future.
Additional Living Space: A basement remodel creates additional living space for your family, allowing you to spread out and enjoy your home to the fullest.
Enhanced Functionality: A well-designed basement can serve a variety of purposes, from a home office to a playroom for the kids.
Improved Energy Efficiency: A finished basement can help to reduce your energy costs by providing extra insulation and sealing off any air leaks.
Increased Comfort: With a finished basement, you can enjoy a comfortable living space all year round, regardless of the weather outside.
Trustworthy Remodel Contractors in Denver
At RAM Construction, we pride ourselves on being the most trustworthy and reliable remodel contractors in Denver. We understand that home renovation projects can be overwhelming and stressful, which is why we strive to make the process as easy and stress-free as possible for our clients.
We take the time to get to know each homeowner and their unique needs, ensuring that we create a custom design that fits their lifestyle and budget. Our team of skilled contractors uses only the highest quality materials and tools, ensuring that every project is completed to the highest standards.
Whether you're looking to update your basement to increase your home's value, create additional living space, or enhance your family's comfort, RAM Construction has the expertise to bring your vision to life.
Contact Us Today
Ready to start your basement remodeling project? Contact RAM Construction today to schedule a consultation with one of our experienced contractors. We'll work with you every step of the way to ensure that your dream basement becomes a reality.
Zipcodes: 80110, 80202, 80203, 80204, 80205, 80206, 80207, 80209, 80210, 80211, 80214, 80218, 80219, 80222, 80223, 80224, 80226, 80227, 80230, 80232, 80236, 80237, 80238, 80239, 80246, 80249, 80264, 80290, 80293, 80294