Basement Remodeling in Lakewood, CO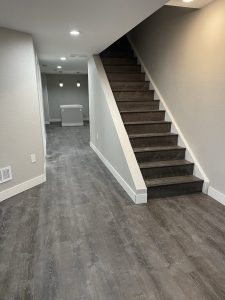 Are you tired of your dark, dingy, and uninviting basement? Do you want to transform your unused space into a functional and beautiful living area that your family and friends can enjoy? At RAM Construction, we specialize in turning your Lakewood basement into a space you'll love spending time in.
Our expert designers and builders will work with you to create a personalized basement design that fits your unique style and budget. Whether you want to create a home theater, add an extra bedroom, or create a recreational space, we can turn your vision into a reality.
One of the biggest benefits of remodeling your basement is the extra living space that you'll gain. Not only will this increase your home's square footage, but it can also increase the overall value of your home. A finished basement can also be a great investment if you plan on selling your home in the future.
In addition to adding value to your home, a remodeled basement can improve your quality of life. You'll have an additional space to entertain guests, a quiet retreat for relaxation, or a designated area for hobbies or work. The possibilities are endless with a finished basement.
Another benefit of choosing RAM Construction for your Lakewood basement remodeling project is our commitment to quality. We use only the highest quality materials and state-of-the-art equipment to ensure that your finished basement is built to last. Plus, our experienced professionals are dedicated to providing exceptional customer service and a stress-free renovation process.
Finally, when you choose RAM Construction for your basement remodeling needs, you can have peace of mind knowing that we'll take care of every aspect of the project, from design to construction to final cleanup. We'll work with you every step of the way to ensure that your project is completed on time and budget.
Don't wait any longer to transform your unused basement into the living space of your dreams. Contact RAM Construction today to schedule a consultation with one of our expert designers. Let us help you unlock the full potential of your Lakewood home and create a stunning living space that you and your family will enjoy for years to come.
In conclusion, a remodeled basement can add value to your home, improve your quality of life, and provide you with an extra living space that you'll love. At RAM Construction, we're committed to providing you with exceptional service and a stress-free renovation process. Contact us today to get started!
Zip code 80228