Remodel Contractors in Lakewood, CO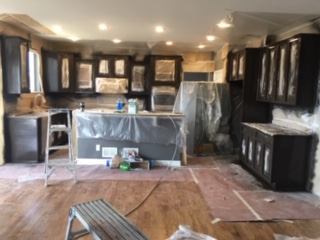 When it comes to finding reliable and skilled remodel contractors in Lakewood, look no further than RAM Construction. Our team of professionals is dedicated to providing high-quality and affordable remodeling services to homeowners in the Lakewood area.
We understand that remodeling your home can be a significant investment, both in terms of time and money. That's why we make it our mission to ensure that every step of the process is as smooth and stress-free as possible. From the initial consultation to the final walkthrough, we work closely with our clients to ensure that their vision is brought to life.
Our team of experts has years of experience in the remodeling industry, and we pride ourselves on our ability to deliver exceptional results on time and within budget. Whether you're looking to update your kitchen or bathroom, add extra living space to your home, or complete a full home renovation, we have the expertise and resources to get the job done right.
One of the benefits of choosing RAM Construction as your remodel contractor is our commitment to using only the highest quality materials and equipment. We believe that using the best materials and equipment not only ensures a superior finished product but also saves our clients money in the long run by reducing the need for costly repairs and replacements down the road.
At RAM Construction, we also understand the importance of clear communication and transparency throughout the remodeling process. That's why we make it a priority to keep our clients informed every step of the way, from project timelines to any unexpected issues that may arise.
In addition to our exceptional workmanship and commitment to customer satisfaction, we also offer competitive pricing on all of our remodeling services. We believe that everyone deserves to have the home of their dreams, and we work hard to make that a reality for our clients.
So if you're looking for a reliable and skilled remodel contractor in Lakewood, look no further than RAM Construction. Contact us today to schedule a consultation and let us help bring your remodeling vision to life.
Zip code 80228