Basement Remodeling in Northglenn, CO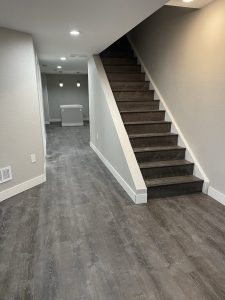 Are you tired of your Northglenn basement feeling like a dark, damp, and unwelcoming space? At RAM Construction, we believe that your basement can be so much more than just a storage area. It can be transformed into a functional and beautiful living space that you and your family can enjoy for years to come.
We understand that every homeowner has their own unique style and vision for their basement. That's why we work closely with our clients to create personalized design that fits their individual needs and budget. Whether you want to create a home theater, a playroom for your kids, or a cozy guest suite, we have the expertise to make your vision a reality.
One of the most significant benefits of remodeling your basement is the additional living space that you'll gain. This can be especially beneficial if you have a growing family or if you love to entertain guests. A finished basement can also increase the overall value of your home, making it a wise investment for the future.
Another benefit of basement remodeling is the versatility that it provides. Your basement can become whatever you want it to be, whether that's a gym, an office, or a craft room. The possibilities are truly endless.
At RAM Construction, we pride ourselves on using only the highest quality materials and state-of-the-art equipment. We know that a remodeling project can be disruptive to your daily routine, so we work quickly and efficiently to minimize any inconvenience to you and your family. Plus, our team of experienced professionals is dedicated to providing exceptional customer service and ensuring that your project is completed on time and on budget.
When you choose RAM Construction for your Northglenn basement remodeling project, you can rest assured that we'll take care of every aspect of the project, from design to construction to final cleanup. We'll work with you every step of the way to ensure that your finished basement is everything you dreamed it could be.
Don't let your unused basement go to waste any longer. Contact RAM Construction today to schedule a consultation with one of our expert designers. Let us help you unlock the full potential of your Northglenn home and create a stunning living space that you and your family will love.
In conclusion, a remodeled basement can provide you with additional living space, increase the value of your home, and give you the versatility to create the space you've always wanted. At RAM Construction, we're dedicated to providing exceptional customer service and a stress-free renovation process. Contact us today to get started on your Northglenn basement remodeling project.
Zipcodes: 80233, 80241