Basement Remodeling in Westminster, CO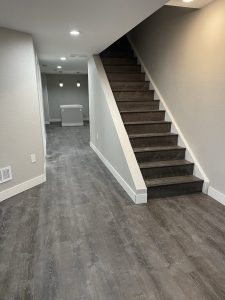 If you're a Westminster homeowner with an unfinished basement, you may be missing out on a valuable opportunity to increase your living space and the value of your home. At RAM Construction, we specialize in creating beautiful and functional living spaces out of unfinished basements.
One of the biggest benefits of basement remodeling is the additional living space it provides. Whether you're in need of an extra bedroom, a home office, or a playroom for the kids, a remodeled basement can provide the space you need. Plus, adding square footage to your home can increase its overall value, making it a smart investment for the future.
But a basement remodel is more than just adding square footage. It's about creating a space that reflects your style and meets your unique needs. Our team of experienced designers and contractors will work with you every step of the way to create a custom space that's perfect for you and your family.
At RAM Construction, we believe that quality materials and craftsmanship are essential to a successful basement remodeling project. That's why we use only the highest quality materials and the latest construction techniques to ensure that your basement is not only beautiful but also functional and long-lasting.
We understand that taking on a basement remodeling project can seem overwhelming, but we're here to make the process as stress-free as possible. From the initial design consultation to the final walkthrough, we'll be there every step of the way to answer your questions, address your concerns, and ensure that the final product exceeds your expectations.
Perhaps one of the most exciting aspects of basement remodeling is the endless possibilities that it provides. Your basement can become whatever you want it to be, whether that's a home theater, a game room, or even a second kitchen for entertaining. With the help of our experienced designers and contractors, your basement can become a unique and personalized space that reflects your individual needs and style.
At RAM Construction, we believe that your satisfaction is our top priority. That's why we're dedicated to providing exceptional customer service and ensuring that every project is completed on time and within budget. Our team of professionals will work tirelessly to ensure that your basement remodeling project is a success and that you're left with a space that you and your family will love for years to come.
Don't let your unfinished basement go to waste any longer. Contact RAM Construction today to schedule a consultation with one of our expert designers. Let us help you unlock the full potential of your Westminster home and create a stunning living space that you and your family will enjoy for years to come.
In conclusion, a remodeled basement can provide you with valuable living space, increase the value of your home, and allow you to create a personalized space that reflects your unique needs and style. At RAM Construction, we're committed to providing exceptional customer service and high-quality craftsmanship to ensure that your basement remodel is a success. Contact us today to get started on your Westminster basement remodeling project
Zipcodes: 80003, 80005, 80020, 80021, 80023, 80030, 80031, 80221, 80234, 80260